CHR's accomplished Staff and Board of Directors bring a variety of skills and specialties to the table. With sound financial practices in place, we seek to promote CHR's mission and to provide outstanding care to our horses.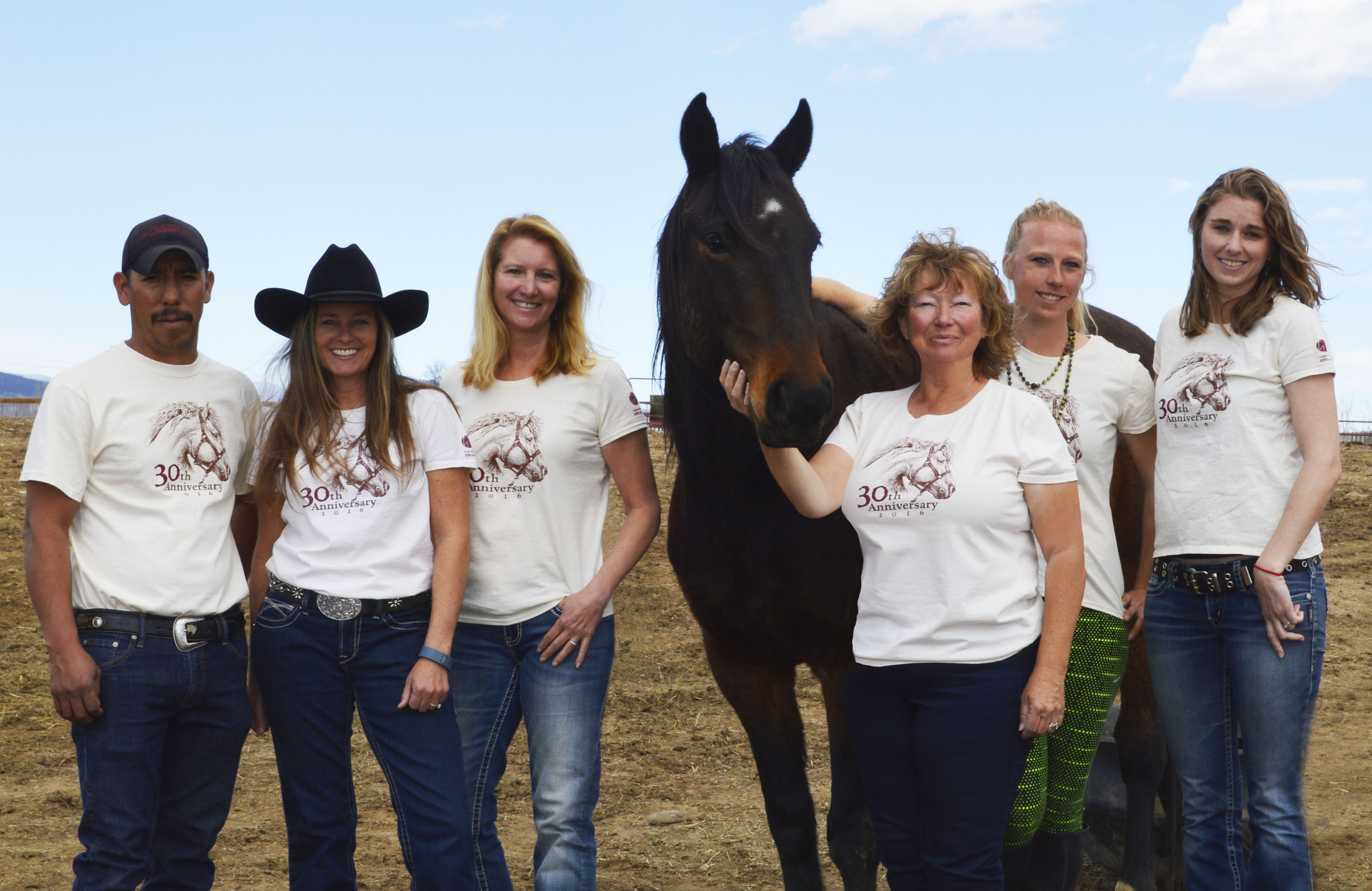 Staff Members
CAROL BRICE – Executive Director
Carol has a unique blend of skills that she brings to Colorado Horse Rescue. She has been successful at all levels in different industries. After graduating from college she was the Marketing/PR Coordinator and Conference Manager for a national franchise. When she moved to Colorado she spent eight years in retail management and had the unique experience of owning and managing her own retail business.
Carol grew up in Texas and, believe it or not, she did not have horses. Now she owns two horses and has been fortunate enough to spend the last 16 years in the equine industry. Before joining the staff at CHR, she was the Equine Program Director at CTRC where she dedicated ten years to caring for an amazing herd of over 25 horses. In addition to all the duties related to managing horses she worked on the fundraising committee, supervised both staff and volunteers, conducted horsemanship clinics, managed the training program, coordinated special events and taught therapeutic riding lessons.
Carol has been working with CHR since 2011 and is excited about what we can accomplish in the future. She is passionate about this organization and knows that together we can continue to have a positive impact on the horses and people in our community.
She currently lives in Boulder with her husband Drew and their dog, Cleo.

Find Carol on LinkedIn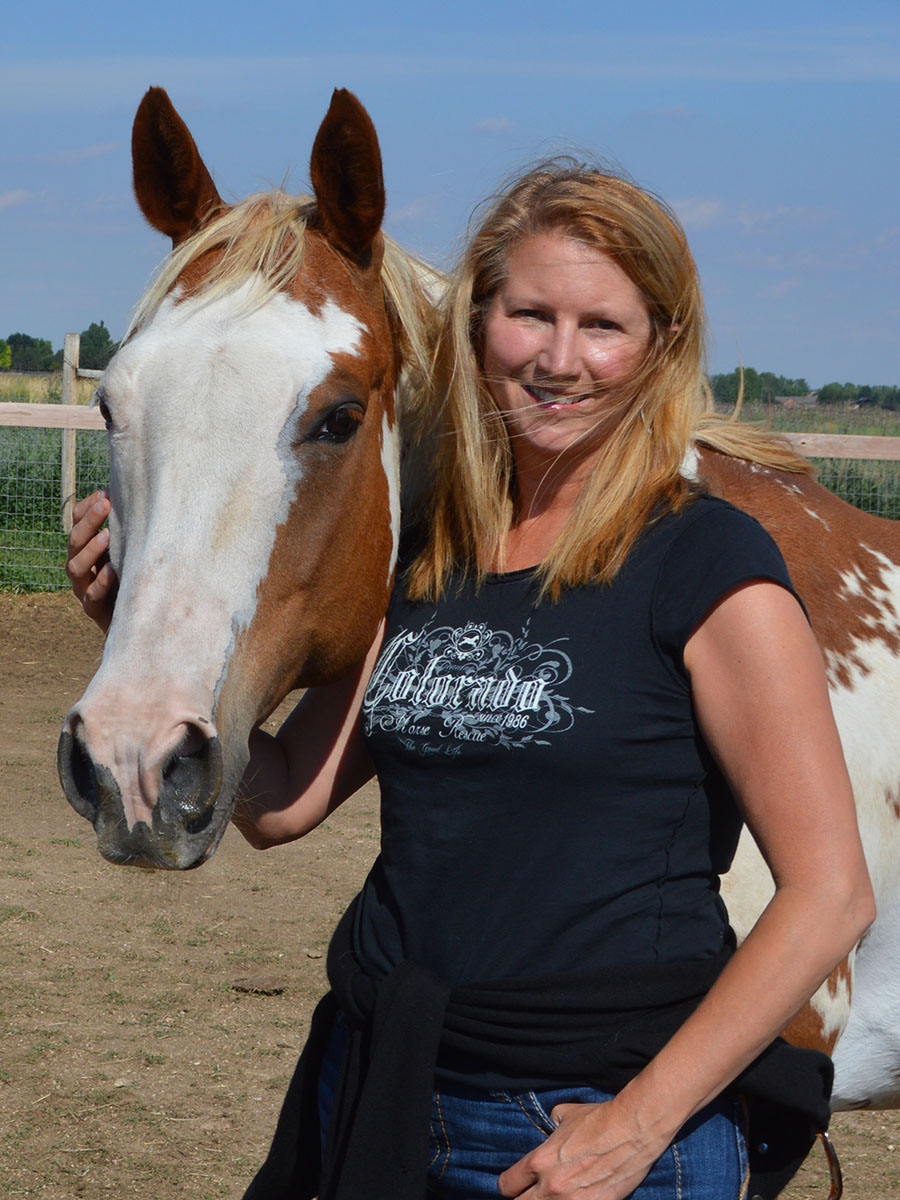 Rachel Corbman – Operations Manager
Growing up a Colorado local, Rachel entered the horse world at the age of seven. She took lessons and rode in numerous disciplines, and found a love for dressage early on. She owned and cared for her horse, Cavalier, for over 17 years (he reached a ripe old age). Rachel went to Colorado State University and completed their Equine Sciences program, with a minor in Business Administration. She also completed all of CSU's pre-veterinary requirements, and graduated Cum Laude.
In the professional world, Rachel worked as the Assistant General Manager for a small business in Boulder for seven years. She was responsible for managing a staff of forty people, customer relations, scheduling and hosting corporate events, and assisting with the financial workload. Rachel began volunteering with CHR in 2006. She took a leave of absence from the rescue to work as an equine nurse at Hagyard Equine Medical Institute in Kentucky, and upon returning to Colorado she was hired part-time at CHR as a barn manager.
At CHR, Rachel's position quickly blossomed into a full-time job that included a good deal of administrative and veterinary work. Rachel has been responsible for bookkeeping and budgeting, website development, marketing, volunteer coordination, and barn management. Most recently, her responsibilities have grown to include equine intakes and operations management. She is extremely passionate around animal welfare and CHR's mission, and she is excited to see the organization succeed.

Find Rachel on LinkedIn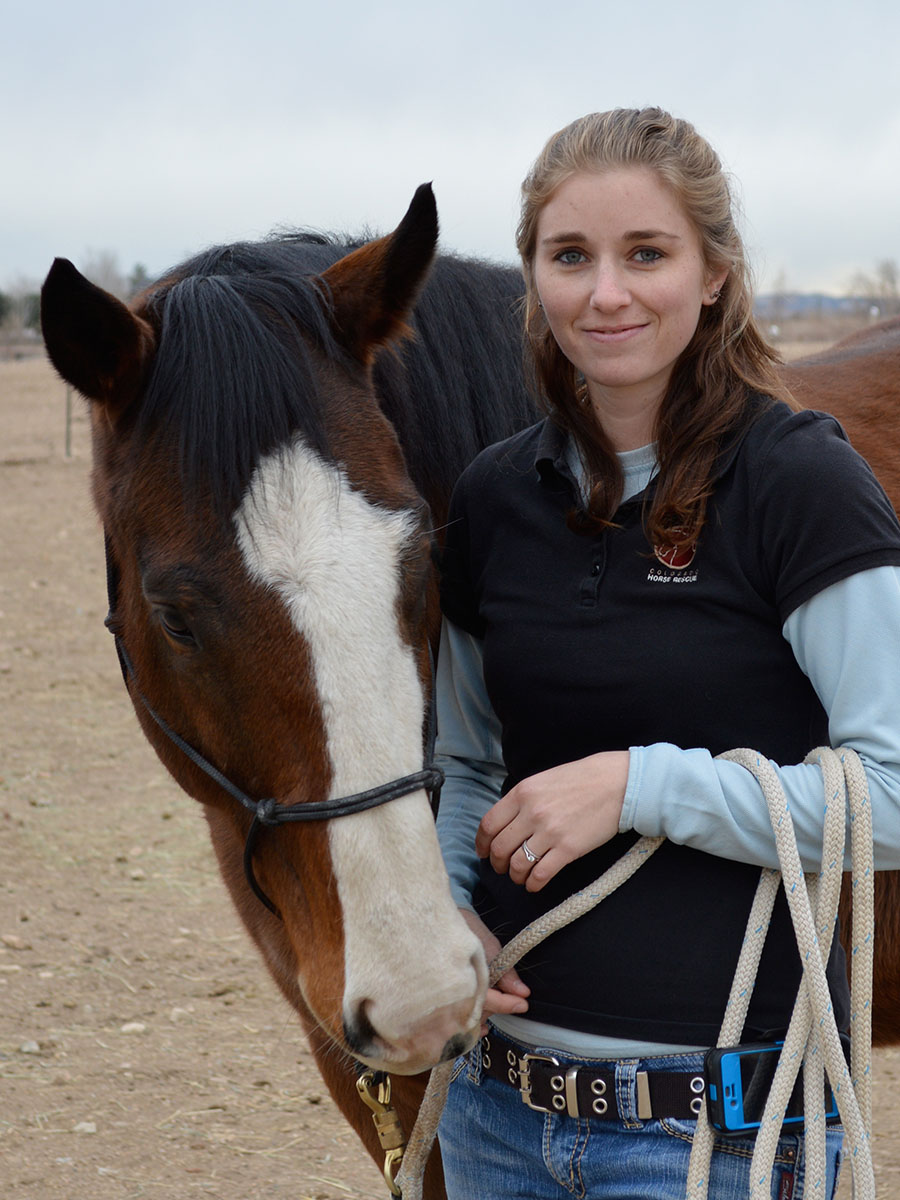 Shawna English – Director of Development
Shawna's relationship with Colorado Horse Rescue began as a volunteer in 2008. Her love of this organization inspired her long-term volunteer service and eventually led to acceptance of a staff position in 2013. In 2015, she adopted a 9-year-old Quarter Horse mare from CHR. Through the CHR training program, Lil Bit received her introduction to life under saddle and as a result found her forever home with Shawna.
Before entering the non-profit sector, Shawna spent 20 years in the corporate world. She held a multi-site manager role a for a publicly traded, "Fortune 100 company". Shawna supervised 15 or more administrators and over 150 employees at seven different locations. She developed and managed programs for large clients such as USAA, IBM, Motorola, Citibank, and the Royal Bank of Scotland.
Shawna holds a Bachelors of Science in Consumer Services from Carson-Newman College, Tennessee, as well as a Master of Arts in Education from the University of Northern Colorado, Greeley. Having grown up an "Army Brat", Shawna lived all over the United States, abroad, and continued to relocate for her career to include the United Kingdom. She is married to her wonderful husband, Jeff, who also spent his childhood as a military child.
Shawna's passion for leading, building, and retaining strong teams engaged in a positive and energetic culture launched CHR's LeadChange Program. Along with leading LeadChange, Shawna finds her greatest joy in implementing excellent equine care and compelling individuals to take action and invest in CHR's quality and ethically-driven operation.

Find Shawna on LinkedIn
Sharon Gilbert – Program Assistant
Sharon brings a 15 year history in the non-profit sector with her to CHR along with experience in corporate settings, the custom home building industry, landscape design, database management, fundraising, and special event coordination. A lifetime love of horses has driven her career path so that she is an Advanced Certified Therapeutic Riding Instructor, she has competed in Dressage, and is also a judges' scribe for dressage. Her wonderful dressage schoolmaster, Manassis, gave her a true leg up in her equestrian knowledge during the nine years they were together.
She holds a Bachelor's of Science in Business Administration and puts her work history and that degree to good use in a variety of support functions at CHR. Her initial volunteer position quickly blossomed into a full-time employment position covering merchandising, special event coordination, and bookkeeping. She is truly honored to be part of such a remarkable organization that is working to educate the general public and horse owners as well in the responsibilities of horse ownership.
Sharon lives in Lafayette with her husband, Lynn, and their Welsh Corgi, Gypsy.

Find Sharon on LinkedIn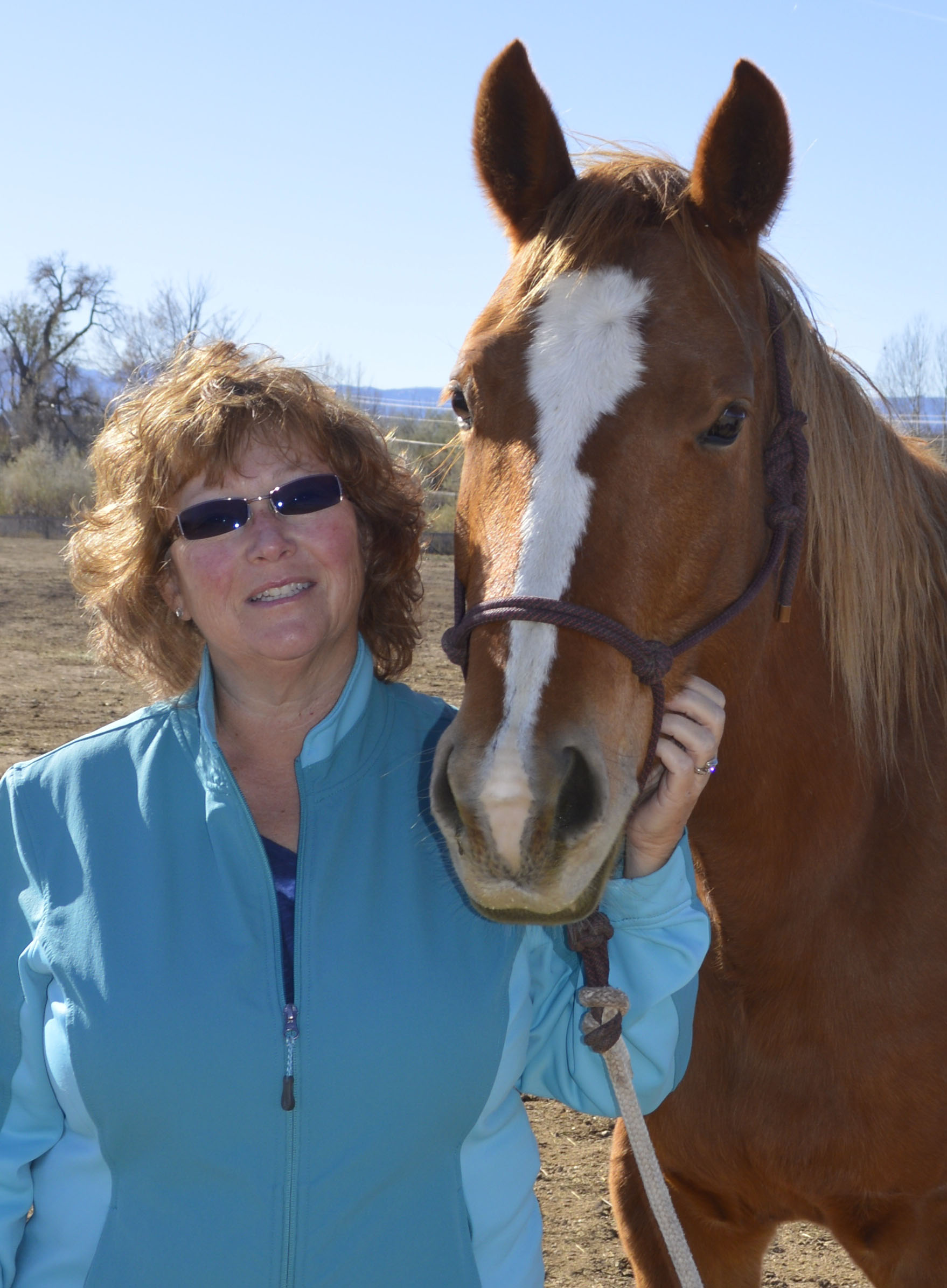 Sarah Hofkamp – Adoption and Equine Training Coordinator
Sarah Hofkamp is a trainer born and raised by the Colorado wilds. Although young, she brings a unique love and passion for her equine companions that melds beautifully with Cathy's Teaching and Training Techniques. Her entire life has revolved around gaining equine knowledge and experience, something that has on more than one occasion opened vast doors of opportunity. Fearlessly willing to face any equine challenge, her extensive and ever growing understanding of the equine mind allows for her to communicate in ways best suited to individual equine needs. "It's not about teaching horses to learn 'the human language', but instead we are responsible for learning their language."
Never overlooking a horse based on breed or gender, Sarah has worked with it all. From Shire Stallions to Arabian foals Sarah's passion extends to every aspect of equine life. The proud owner of a Friesian Sporthorse Sarah plans on competing in dressage with the young mare. In the meantime she curbs her adrenaline appetite with Competitive Trail Riding on her reliable Arabian Mounts as she trains to compete in the Tevis Cup.
Sarah strives to be one of the "greats" in the equine industry with a dream to breed and train exceptional Friesian horses as well as high quality endurance Arabians. This just goes to show that it doesn't matter if the blood runs cold or hot, her love of equines is all encompassing.

Find Sarah on LinkedIn
Board of Directors
Julie Oelman – President
Dan Burak – Vice President
Steve Gardner – Treasurer
Saliha Greff – Secretary